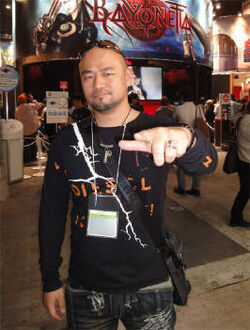 Hideki Kamiya
(神谷 英樹 
Kamiya Hideki
), born in 1970, in Matsumoto, Japan, is a director at
PlatinumGames
, and former designer at Capcom and Clover Studio.
[1]
After he graduated from college, Hideki Kamiya applied to numerous game developers. He was turned down by Sega and had an application with Namco. However, Namco wanted Hideki to be a game artist as opposed to a game director. Kamiya later joined Capcom in 1994, where he worked as a planner for the first Resident Evil. At Capcom he worked on many other tiles titles, most famously Devil May Cry and Resident Evil 2.
Hideki Kamiya, as well as Inaba Atsushi and Shinji Mikami, later started working at Clover Studio, a subsidiary of Capcom known for many games including God Hand, Viewtiful Joe and Ōkami. This company was later shut down by Capcom's Board of Directors in 2007, with Capcom keeping the rights to the franchises. After this, Kamiya, again with Inaba and Shinji, set up SEEDS Inc., which was later merged with ODD Inc. to form PlatinumGames in 2007, which included many other ex-Clover Studio employees, after that Kamiya worked worked on various games, and is even working as the director of Scalebound as well as the supervisor for Bayonetta 2.
References
Edit