Amala
is a character in
Anarchy Reigns
, a long-time ally of Jack's and an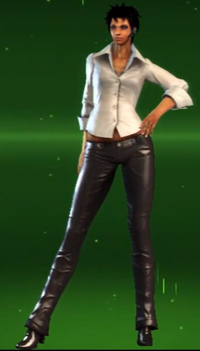 information specialist second to none. Making frequent use of her data mining skills, she supplies Jack with essential intel during his missions. Although at ease with the latest tech, Amala is also an ingenious retro hacker, capable of breaking the encryption of long-forgotten military satellites and putting them to surveillance use.
Role in MadWorld
Edit
Throughout the campaign Amala provides information to Jack.
Role in Anarchy Reigns
Edit
Throughout the Black Side of the campaign she assists Jack while he tracks down Maximilion Caxton, later she persuades The Baron into helping take down Max by question his manhood.
Amala was voiced by Masasa Moyo in the English version and Kikuko Inoue in the Japanese version.
Amala is the spiritual predecessor of a character of the same name from MadWorld.
Main Article
Edit
For more information please visit the Anarchy Reigns wiki page: Amala